Protean eGov Technologies Limited IPO
i. Protean eGov Technologies is one of the key IT-enabled solutions companies in India engaged in conceptualizing, developing and executing nationally critical and population scale greenfield technology solutions. They collaborate with the government and have extensive experience in creating digital public infrastructure and developing innovative citizen-centric e-governance solutions.
ii. Protean eGov was originally setup as a depository in 1995 and created a systemically important national infrastructure for capital market development in India. They have been the chief architect and implementer for some of the most critical and largescale technology infrastructure projects in India.
iii. They were among the leading Indian companies in the e-governance sector in terms of profitability, operating income, operating profit, and operating profit margin in Fiscal 2022.
iv. Protean have implemented and managed 19 projects spread across seven ministries and autonomous bodies ushering change in public delivery of services.
v. Their primary engagement has been with following ministries: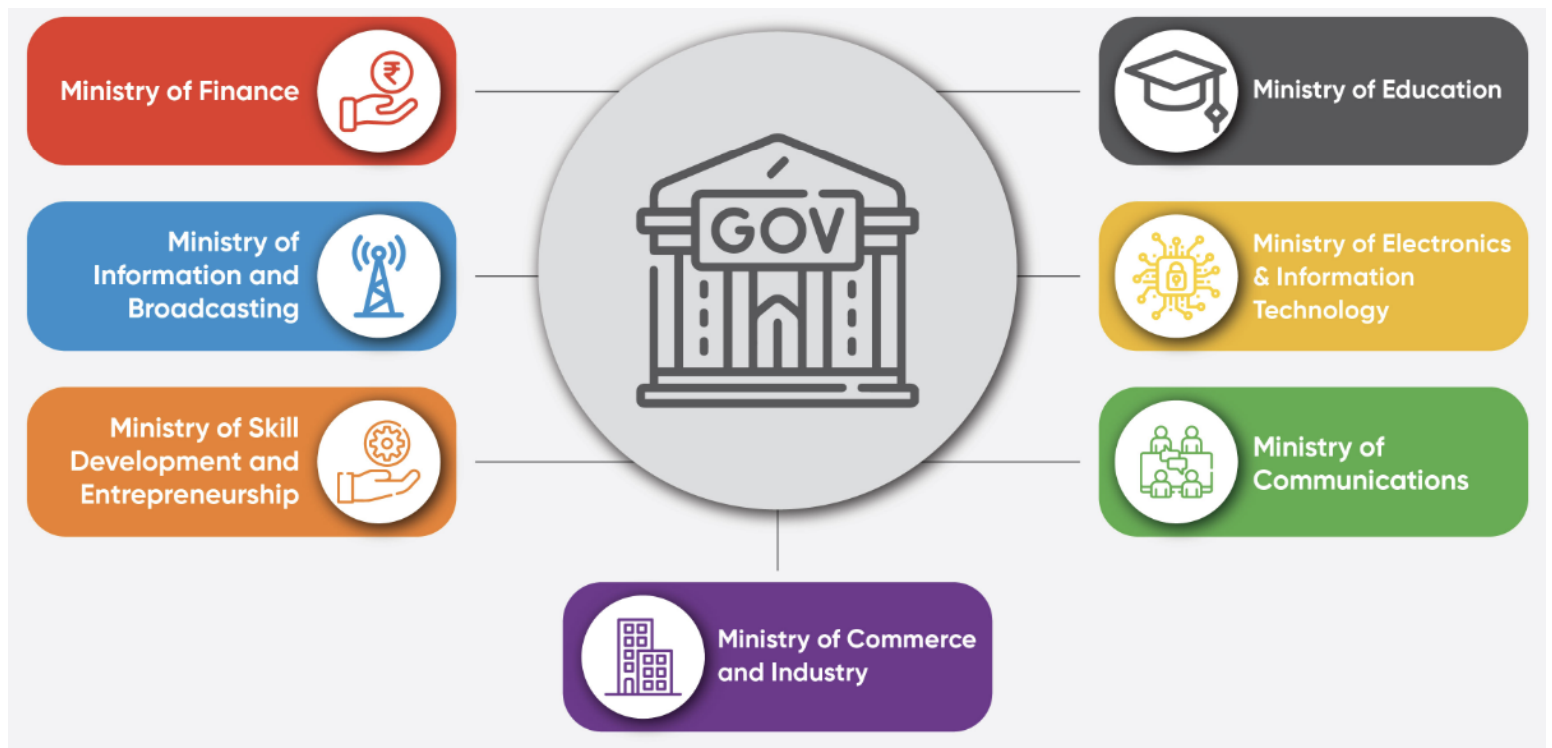 Some of company's key interventions include:
i. Modernising the direct tax infrastructure in India through projects like Permanent Account Number ("PAN") issuance, the Tax Information Network ("TIN") including Online Tax Accounting Systems ("OLTAS").
ii. Strengthening the old age security system in the country by building the core IT infrastructure as a Central Recordkeeping Agency ("CRA") for the National Pension System ("NPS").
iii. Enabling the universal social security system for all Indians, particularly the workers in the unorganized sector by creating technology infrastructure as a CRA for the Atal Pension Yojana ("APY").
iv. Contributing to the India Stack, a set of application programming interface ("API") that allows governments, businesses, startups and developers to utilise a unique digital infrastructure to prepare solutions that are presence-less, paperless and enable cashless service delivery.
v. Improving accessibility to education and skill financing through creation of efficient digital marketplaces enabling discovery of financial resources through platforms such as Vidya Lakshmi, and Vidyasaarathi.
vi. Contributing to and supporting open digital building blocks such as Open Network for Digital Commerce ("ONDC") for use-cases across sectors like e-commerce, mobility, healthcare, agriculture and education.
Competitive Strengths
i. Pioneer and market leader in universal, citizen centric and population scale e-governance solution
ii. Secure, scalable and advanced technology infrastructure
iii. Large physical infrastructure with pan-India network and scale resulting in inclusion
Protean eGov Technologies Limited IPO Details:
Financials of Protean eGov Technologies Limited IPO:
Recommendation on Protean eGov Technologies Limited IPO:
Lead Manager of Protean eGov Technologies Limited IPO:
Registrar of Protean eGov Technologies Limited IPO:
Company Address:
Times Tower, 1st Floor, Kamala Mills Compound, Senapati Bapat Marg, Lower Parel, Mumbai 400 013, Maharashtra;
Discussion on Protean eGov Technologies Limited IPO: