Overview of the Company
(i) Affle International, Singapore is the parent company of 13-year old Adtech company Affle (India) Limited which is coming up with an IPO.
They are a global technology company with a proprietary consumer intelligence platform that delivers consumer acquisitions, engagements and transactions through relevant Mobile advertising (the "Consumer Platform").
The "Consumer Platform" aims to enhance returns on marketing spend through delivering contextual mobile ads and reducing digital ad fraud, while proactively addressing consumer privacy expectations.
(ii) As of March 31, 2019, Affle Consumer Platform had approximately 2.02 billion consumer profiles, of which approximately 571 million were in India, 582 million were in Other Emerging Markets (which comprises Southeast Asia, the Middle East, Africa, and others) and 867 million were in Developed Markets (which comprises North America, Europe, Japan, Korea, and Australia).
During Fiscal 2019, the Affle Consumer Platform accumulated over 300 billion data points, which power their prediction and recommendation algorithm.

How They Earn Revenue?
a) They Primarily earn revenue from their Consumer Platform on a cost per converted user ("CPCU") basis, which comprises user conversions based on consumer acquisition and transaction models.
The transaction model is usually in the form of a targeted user submitting a lead acquisition form or purchasing a product or service after seeing an advertisement delivered by the Affle.
b) They also earn revenue from their Consumer Platform through awareness and engagement type advertising, which comprises cost per thousand impressions ("CPM"), cost per view ("CPV") and cost per click ("CPC") models. 

Industry they serve
Their products are used in e-commerce, fin-tech, telecom, media, retail and FMCG companies, both directly and indirectly through their advertising agencies
Asset Light Model
Their Consumer Platform business is asset-light and scalable as shown by the fact that company's employee benefit expenses, depreciation and amortization expenses, and other expenses have remained relatively unchanged despite significant changes in our revenue in the last three fiscal years.
Objects of the Affle India Limited IPO:
(i) The object of the Offer for Sale is to allow Affle Holdings to sell up to 4,953,020 Equity Shares held by it. (ii) Fresh issue up to 90 cr for the following purpose: 1. Funding the working capital requirements of our Company; and 2. General corporate purposes.
Affle India Limited IPO Details:
| | |
| --- | --- |
| Open Date: | Jul 29 2019 |
| Close Date: | Jul 31 2019 |
| Total Shares: | 6161073 |
| Face Value: | ₹ 10 Per Equity Share |
| Issue Type: | book building |
| Issue Size: | 458 Cr. |
| Lot Size: | 20 Shares |
| Issue Price: | ₹ 740-745 Per Equity Share |
| Listing At: | NSE,BSE |
| Listing Date: | Aug 08 2019 |
Promoters And Management:
The Promoters of our Company are: 1. Anuj Khanna Sohum- Anuj Khanna Sohum, aged 41 years, is the Chairman, Managing Director and Chief Executive Officer of our Company. 2. Affle Holdings- Affle Holdings was incorporated on July 16, 2008, under the Companies Act, Chapter 50 of Singapore with the Singapore Registrar of Companies. Affle Holdings is engaged, through its subsidiaries, in the business of research and experimental development on IT & product development for mobile software & technology. As on the date of this Red Herring Prospectus, the Promoters hold, in aggregate, 18,368,971 Equity Shares, representing 75.63% of the issued and paid-up Equity Share capital of the Company.
Financials of Affle India Limited IPO: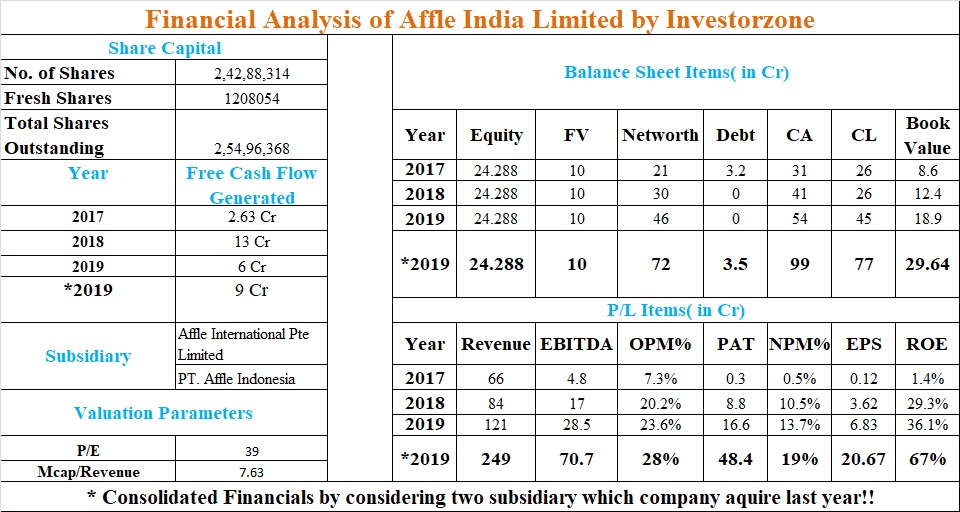 IZ View
1
. The Company on standalone bases has shown excellent
CAGR Growth
of 35% in
Revenue
and 643% in
PAT.
2
. The company
OPM
% and
NPM%
have improved handsomely over the years.
3
. The business model of the company is as such it is
Asset-light
and
Debt-free.
4.  The Valuation is tad expensive and fully priced in.
5
. The company has acquired two subsidiaries in 2018-19 that is why Consolidated Financials have been prepared for this year.
6
. The Company unlike tech startups not burning investors money but generating free cash which is a healthy sign for the business.
Comparison With Peers:
There are no listed peers in India..
Recommendation on Affle India Limited IPO:
Review and Recommendation of InvestorZone is:  5/10 [ The company has an excellent business of Mobile Marketing which is a flavor of today's world as everyone at least spends 3-4 hrs average on mobile phones. They have shown tremendous growth in the last 3 years. They are acquiring a lot of businesses which will help them gaining market share in different business verticals. This is a niche business which is listing on bourses which will definitely attract investor interest. The chances of 10-15% listing gain are possible.]
Lead Manager of Affle India Limited IPO:
Registrar of Affle India Limited IPO:
Discussion on Affle India Limited IPO: