Synergy Green Industries Limited IPO
(i) Synergy Green Industries Limited (SGIL), was incorporated in the year 2010 is engaged in the business of foundry i.e. Manufacturing of Castings, Industrial Castings, Turbine Castings, Metal Castings, Steel Castings and Windmill Parts. The Company Started as a green filed foundry project in 2011 and entered in commercial operation in June 2012.
(ii) The Company provides casting to two industries:
a) Wind Industries
b) Non-Wind Industries(Mining, Pumps & Plastic Injection parts )
So we can say that the growth of the company depends upon the performance of the above two industries. Let us see how these industries have performed over the years and what are the challenges faced by the industries.

Wind Industries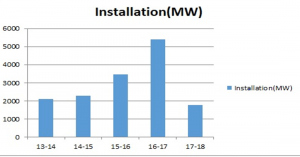 During 2017-18 Indian wind installations dipped by 2/3rd to 1762 MW. This drop was mainly on account of transformation from the feed-in tariff system to reverse bidding method. New reverse bidding era brought down the unit KWH power tariff by 50% to below Rs 2.50. Excepting USA & China, the majority of countries have implemented reverse bidding system for renewable power. That is why we have seen how Wind Energy companies such as Inox Wind and Suzlon have not performed well. In fact, Inox Wind is one of the clients of Synergy Green Industries. However, management is confident that  introduction of the reverse bidding process, the government's priority towards renewable to protect environment & reduce foreign currency outflow through oil imports, and supported by GST reform, Indian wind industry is projected to attain 10 GW of annual installation within the short period of two years.
Non-wind Industries
Apart from Wind Turbine Industry, company is also producing castings to Mining, Pumps & Plastic Injection parts. Looking at India's growth story, these industries are also offering huge growth opportunities for large castings. During FY 2017-18, non-wind segment contributed 24% of revenue and expected to reach 33% during the next two years.
(iii) Opportunities in the Market
(a) Each MW of wind turbine requires 15 MT of castings and global wind casting demand is around 7,50,000 MT. Indian wind casting demand is likely to reach 1,50,000 with 10 GW of annual installations. With the global export of wind turbine assemblies from India, total casting demand is likely to exceed 2,00,000 MT. 
(b)The company established as a leading wind turbine casting manufacturer in the country with supplies to all leading wind turbine manufacturers in the world. Considering India and global demand, there is a great opportunity for the company to capture 10% of the global market share and offers >30% CAGR for the next 5 years period.
(iv) Client Base
The Company has maintained a long-standing relationship with its major customers such as like M/s Vestas, Denmark , M/s Gamesa, M/s GE Renewable and M/s Enercon Germany, M/s ZF and M/s Siemens.
Objects of the Synergy Green Industries Limited IPO:
Objective of Synergy Green Industries IPO are: 1. Purchase of Plant and Machinery 2. To Meet Working Capital Requirement 3. General Corporate Purpose 4. To Meet the Issue Expenses
Synergy Green Industries Limited IPO Details:
| | |
| --- | --- |
| Open Date: | Sep 04 2018 |
| Close Date: | Sep 11 2018 |
| Total Shares: | 3,780,000 |
| Face Value: | ₹ 10 Per Equity Share |
| Issue Type: | Fixed Price Issue IPO |
| Issue Size: | 26.46 Cr. |
| Lot Size: | 2000 Shares |
| Issue Price: | ₹ 70 Per Equity Share |
| Listing At: | BSE SME |
| Listing Date: | Sep 21 2018 |
Promoters And Management:
Promoters of Synergy Green Industries IPO Company are: Mr. Sachin Rajendra Shirgaokar Mr. Sohan Sanjeev Shirgaokar Mr. Vendavagali Srinivasa Reddy S. B. Reshellers Private Limited
Financials of Synergy Green Industries Limited IPO:
Particulars
For the year/period ended (in Rs. Lakhs)
31-Mac-18
31-Mar-17
31-Mar-16
31-Mar-15
31-Mar-14
31-Mar-13
Total Assets
10,835.50
9,178.72
8,253.32
6,885.80
6,514.79
5,959.28
Total Revenue
10312.99
12,067.19
8,259.66
6,384.93
3,723.83
954.44
Profit After Tax
466.42
485.96
155.21
(685.06)
(901.51)
(905.28)
Comparison With Peers:
As per DRHP, the company has shown Kalyani forge and Ramakrishnan Forge which is trading at P/E of 17 and 20 respectively.
Recommendation on Synergy Green Industries Limited IPO:
Review and Recommendation of Synergy Green Industries IPO from IZ team is: 2/10 [ The Sector to which company caters has been laggard lately with the introduction of the feed-in tariff system to reverse bidding method. New reverse bidding era brought down the unit KWH power tariff by 50% to below Rs 2.50. The Issue looks fully priced as compared to its peers. The company has high D/E>4 as on FY18. ]
Lead Manager of Synergy Green Industries Limited IPO:
Registrar of Synergy Green Industries Limited IPO:
Company Address:
Synergy Green Industries Limited 392 E Ward, Shahupuri, Kolhapur-416001, Maharashtra, India Phone No. +91-0231-2658375 E-mail: info@synergygreenind.com Website: www.synergygreenind.com
Bid Details of Synergy Green Industries Limited IPO as on
11 Sep 2018 | 11:58:03 PM
| Category | No.of shares offered | No. of shares bid |
| --- | --- | --- |
| | 1,794,000 | 3,400,000 |
| | 1,794,000 | 640,000 |
| | 192,000 | 192,000 |
| | 3,780,000 | 4,232,000 |
| | |
| --- | --- |
| QIBs | Yes |
| QIBs+HNIs Subscription | 1.90X |
| Retail Subscription | 0.36X |
| Total Subscription | 1.13X |
Discussion on Synergy Green Industries Limited IPO: