(i) Artedz Fabs Limited is a leading manufacturer of cotton yarn dyed fabrics in India. Along with the in-depth professional experience in the textile industry coupled with cutting edge technology in the manufacturing unit, Team Artedz passionately provides fashion-forward designs and high-quality products to its customers.
(ii) The manufacturing unit has been set up with state of art machinery, which meets the international product standards. With warping equipment from India and Italy and weaving machines from German and Spain, the humidified unit comprises of high-speed Airjet looms and Rapiers. With world-class manufacturing technology, Artedz manufactures high-quality elegant shirting and suiting fabrics in a variety of blends, weaves, and widths.
(iii) The in-house capacity in their factory located at Bhiwandi-Nashik Highway. They also engage all types of weaving units, ranging from conventional looms to modern looms from time to time to further increase the production. The products are 100% custom made to suit the client's need. The hands-on Design Team works closely with the Research and Development department to come up with fresh and trend-setting developments every season.
Objects of the Artedz Fabs Limited IPO:
The Company is Issuing 23,10,000 Shares at Rs. 36 a piece thereby raising 8.3160 Cr from the Proceed for the Following Items. A. To meet the working capital requirements of the company B. To meet the Issue Expenses C. General Corporate Purposes
Artedz Fabs Limited IPO Details:
| | |
| --- | --- |
| Open Date: | Mar 18 2019 |
| Close Date: | Mar 20 2019 |
| Total Shares: | 2,310,000 |
| Face Value: | ₹ 10 Per Equity Share |
| Issue Type: | Book Built Issue IPO |
| Issue Size: | 8.32 Cr. |
| Lot Size: | 3000 Shares |
| Issue Price: | ₹ 34-36 Per Equity Share |
| Listing At: | NSE Emerge |
| Listing Date: | Mar 29 2019 |
Financials of Artedz Fabs Limited IPO: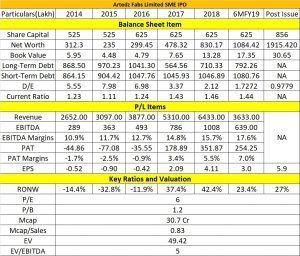 Recommendation on Artedz Fabs Limited IPO:
Review and Recommendation of
Artedz Fabs Limited IPO
from IZ team is:
3/10
[ The company is into the business of Textile and recently listed Textile companies such as Akshar Spintex and Lagnam Spintex are trading at a deep discount. The valuation appears to be reasonable. The Pantomath as an LM gives confidence in the issue at least for the listing gain.]
Lead Manager of Artedz Fabs Limited IPO:
Registrar of Artedz Fabs Limited IPO:
Discussion on Artedz Fabs Limited IPO: