Osia Hyper Retail Limited IPO
(i) They are an emerging supermarket chain with a focus on value- retailing. They opened the first store in Ahmedabad, Gujarat in 2014, in the name of "Osia Hypermart". It works on the same economic model as other various retail showroom chains. The idea was pioneered by entrepreneur Mr. Dhirendra Chopra, the Promoter and Managing Director of the company.
(ii) As on date, they have 11 stores with retail business located across various cities in Gujarat. The Osia Hypermart stores have various divisions to meet the fluctuated shopping needs of customers. These incorporate Menswear, Women's wear, Kid's wear, Footwear, Cosmetics, Perfumes and Handbags, Household Accessories, lingerie, Gifts, Groceries, crockery, Handicrafts, utensils, handlooms, etc under one rooftop. The company stores have over thousands of products under a single roof that will cater to every need of a family and making Osia Hypermart public's favorite shopping destination with a modern ambience and with the feel of a large retail mall.
(iii) Osia Hypermart is the destination where you get products available at prices lower than MRP, setting a new level of standard in price, convenience, and quality. The Company is also planning to trade Wholesale, which will boost-up the growth of the company and increase the scope of business and also Bulk trade with other retail stores  The total concept and idea of shopping has undergone a vast drawing change in terms of format and consumer buying behavior, ushering in a revolution in shopping in India.
Objects of the Osia Hyper Retail Limited IPO:
The Net Proceeds from the Issue are proposed to be utilized by our Company for the following objects: 1. Purchase of Fit outs for stores; 2. To meet Working Capital Requirements; 3. General Corporate Purpose; and 4. Issue Expenses
Osia Hyper Retail Limited IPO Details:
| | |
| --- | --- |
| Open Date: | Mar 26 2019 |
| Close Date: | Mar 28 2019 |
| Total Shares: | 1,578,400 |
| Face Value: | ₹ 10 Per Equity Share |
| Issue Type: | Fixed Price IPO |
| Issue Size: | 39.78 Cr. |
| Lot Size: | 400 Shares |
| Issue Price: | ₹ 252 Per Equity Share |
| Listing At: | NSE Emerge |
| Listing Date: | Apr 05 2019 |
Financials of Osia Hyper Retail Limited IPO: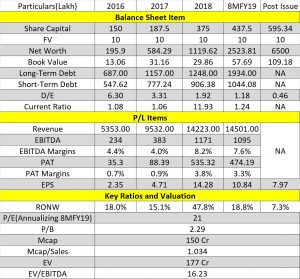 IZ Review
1. The Company has shown excellent Growth in the last 3 years. 2. The Company will have a manageable D/E post issue. 3. The Company has shown excellent growth in EBITDA Margins. 4. The Valuation in terms of P/E, P/B, and EV/EBITDA looks reasonable. 5. The Retail sector is quite promising and has all reasons to grow in numbers in the future
.
Comparison With Peers:
The peers shown are Avenue Super Market, V-Mart, V2- Retail which is currently trading at a very High P/E. However, the size and presence of peers are not strictly comparable with OSIA hyper Retail.
Recommendation on Osia Hyper Retail Limited IPO:
Review and Recommendation of Osia Hyper Retail Limited IPO from IZ team are 5/10. [ The company has shown excellent growth in the last three years. The Retail Sector in which the company is doing business is looking promising. The company has a manageable D/E post listing and have a reasonable valuation.]
Lead Manager of Osia Hyper Retail Limited IPO:
Registrar of Osia Hyper Retail Limited IPO:
Bid Details of Osia Hyper Retail Limited IPO as on
28-Mar-2019 18:00:01 IST
| Category | No.of shares offered | No. of shares bid |
| --- | --- | --- |
| | 749,600 | 1,254,000 |
| | 749,600 | 427,600 |
| | 79,200 | 79,200 |
| | 1,578,400 | 1,760,800 |
| | |
| --- | --- |
| QIBs | Yes |
| QIBs+HNIs Subscription | 1.67X |
| Retail Subscription | 0.57X |
| Total Subscription | 1.12X |
Discussion on Osia Hyper Retail Limited IPO: