Weizmann Forex Limited BuyBack offer June 2018
(i) Weizmann Forex is a part of the INR 45 billion Weizmann Group, with business interests in textile manufacturing and exports, hydro and wind-power generation, as well as foreign exchange transactions and inward money transfer.
Weizmann began its forex operations in 1993 with just four branches and over the years, have grown exponentially to become a leading player in the foreign exchange and remittance market.
(ii) The company has a pan-India network of over three hundred locations. The considerable size, together with meticulous track-record on compliance, has resulted in Weizmann Forex being upgraded by the Reserve Bank of India from Full Fledged Money Changer to the status of Authorized Dealer – Category II.
(iii) Weizmann Forex  focused on customer satisfaction striving towards the highest international standards in the wide range of products and services we offer
1. Foreign Currency Demand Draft (DD) and Telegraphic Transfer (TT)
2. Co-branded International Pre-Paid Travel cards, Travellers' Cheques
3. Import and Export of Foreign Currency
4. Western Union In-bound Money Transfer
5. Facilitating remittances for trade-related imports through Western Union Business Solutions
6. Western Union Domestic Money Transfer
7. Mobile and DTH Recharge
8. Travel Insurance
9. Tours and Travel, including International and Domestic Air Tickets, and Customised Holiday Packages.
Buy Back Offer Deal:
| | |
| --- | --- |
| Buyback Type: | Tender Offer |
| Buyback Record Date: | Aug 16 2018 |
| Buyback Opening Date: | Oct 03 2018 |
| Buyback Closing Date: | Oct 16 2018 |
| Buyback Offer Amount: | ₹ 30.64 Cr |
| Date of Board Meeting approving the proposal: | Jun 04 2018 |
| Date of Public Announcement: | Jun 04 2018 |
| Buyback Offer Size: | 3.77% |
| Buyback Number of Shares: | 436,467 |
| FV: | 10 |
| Buyback Price: | ₹ 702 Per Equity Share |
Details of Buyback:
Proposal for the Company to
Buyback
436,467
  fully paid up equity shares of face value of INR 10 (Indian Rupees Ten) each ("Equity Shares") representing 3.77 % of the total number of outstanding equity shares of the Company, at a price of
INR 702.00
 per Equity Share, for an aggregate amount of
INR 30.64 Crores
 .
How to Participate in buyback?
1. Firstly to be eligible for the buyback the investor should have shares of Weizmann Forex Limited Buyback in demat or physical form as on Record date 18.08.2018. 2. Once you have shares in demat, you can participate in the buyback process which is opening from [03.10.2018 to 16.10.2018] by selling your shares through your broker on NSE or BSE. 3. Then on [29.10.2018] the payment will be given to you for accepted shares and unaccepted shares will be returned to your demat account.
Profit from the buyback on the bases of acceptance Ratio:
Weizmann Forex Limited Buyback offer calculation for investment of Rs 2,00,000 @ 508.7 per share
% Share Accepted
No of Shared Accepted
Gain from Buyback Offer
33%
129
Rs 25,026
50%
194
Rs 38,121
75%
294
Rs  57,181
100%
393
Rs 76,242
Recommendation:
Review and Recommendation of Weizmann Forex Limited BuyBack from InvestorZone is:
05/10
1-5: Fair 5-7: Good 7-10: Excellent
Final Acceptance Ratio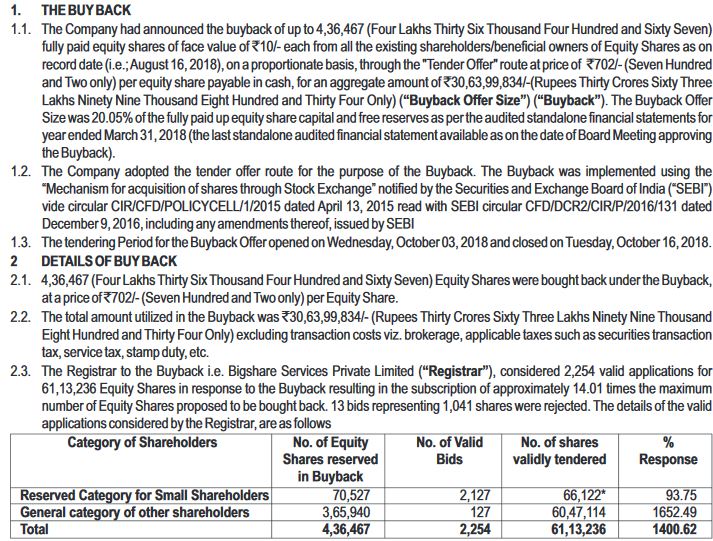 Registrar Contact Details:
Bigshare Services Pvt. Ltd. 1st Floor, Bharat Tin Works Building, Opp. Vasant Oasis, Makwana Road, Marol, Andheri (East), Mumbai - 400059, Maharashtra Website: www.bigshareonline.com
Company Contact Details:
Weizmann Forex Limited 192, 2nd floor, Kitab Mahal, Dr D.N. Road, Fort, Mumbai - 400 001 Phone No. 022 - 62121501/022 46112500 Email ID : customercare@weizmannforex.com