Kaveri Seed Company Limited Buyback 2019
(i) The Kaveri saga began in 1976 with the founder G.V.Bhaskar Rao a science graduate with his wife G Vanaja Devi as co-founder establishing a small seed production facility in Gatla Narsingapur village of Andhra Pradesh. In continuance of this entrepreneurial voyage, the idea sprouted as Kaveri Seeds and the company was formally incorporated in the year 1986.
(ii) Currently, Kaveri is one of the fastest-growing seed company in India with a large network of over 15,000 distributors and dealers spread across the country. With over 700 employees and a strong product line of hybrids. The company is poised to go greater heights with its renewed focus on R&D and strong intent to invest in innovation by the management to deliver all brand promises. With one of the largest anthology of crop germplasm in the country, Kaveri's draught and disease resistant as well as high yielding hybrid and varietal portfolio include Cotton, Corn, Rice, Jowar, Bajra, as well as vegetables such as Tomato, Okra, and gourds.
(iii) Year on year Kaveri has been making great and delivering results and have been strides in its aggressive growth journey by focusing on :
a) Maintaining strong relationships with the farmers as well as channel partners Delivering value to all stakeholders.
b) Exceeding customer expectations in quality, responsiveness, and delivery Upholding a commitment to corporate citizenship by way of handholding farmers Building and retaining a diverse pool of talented employees An aggressive R&D and research focus to incessantly deliver the best of science.
Buy Back Offer Deal:
| | |
| --- | --- |
| Buyback Type: | Tender Offer |
| Buyback Record Date: | Nov 22 2019 |
| Buyback Opening Date: | Dec 31 2019 |
| Buyback Closing Date: | Jan 13 2020 |
| Buyback Offer Amount: | ₹ 196 Cr |
| Date of Board Meeting approving the proposal: | Sep 24 2019 |
| Date of Public Announcement: | Sep 24 2019 |
| Buyback Offer Size: | 4.44% |
| Buyback Number of Shares: | 28,00,000 |
| Price Type: | Tender Offer |
| FV: | 10 |
| Buyback Price: | ₹ 700 Per Equity Share |
Details of Buyback:
KAVERI SEED COMPANY LTD.board of directors of the company at its meeting held today i.e. 24.09.2019 considered and approved the proposal for buyback of fully paid-up Equity Shares of the face value of Rs.2/-  not exceeding 28,00,000 Equity Shares (representing 4.44% of the total number of equity shares in the paid-up equity share capital of the Company) for an aggregate amount of Rs.196 Cr Only, of the total paid-up equity share capital and free reserves of the company as on March 31, 2019 (on a stand-alone and consolidated basis) at a price of Rs.700 on " Tender Basis". 
How to Participate in buyback?
1. Firstly to be eligible for the buyback the investor should have shares of Kaveri Seed Company Limited in demat or physical form as on record date on [ 22.11.2019] 2. Once you have shares in demat, you can participate in the buyback process which is opening from [ 31.12.2019 to 13.01.2020 ] by selling your shares through your broker on NSE or BSE. 3. Then on [ 21.01.2020 ], the settlement will be done for accepted shares and unaccepted shares will be returned to your demat account
Profit from the buyback on the bases of acceptance Ratio:
Buy 285 Shares at CMP of Rs.547( 2,00,000/700=285)
| | | | | |
| --- | --- | --- | --- | --- |
| Acceptance Ratio | 33% | 50% | 75% | 100% |
| Amount Invested in Buyback | 1,55,895 | 1,55,895 | 1,55,895 | 1,55,895 |
| No. of Shares buyback | 94 | 142 | 213 | 285 |
| BuyBack Profit | 14,382 | 21,726 | 32,589 | 43,605 |
| Profit | 9.22% | 14% | 20.9% | 28% |
Recommendation:
Review and Recommendation of Kaveri Seed Company Limited BuyBack from our side is: Rating: 4/10 Fair: 1-5 Good: 5-7 Excellent: 7-10
Final Acceptance Ratio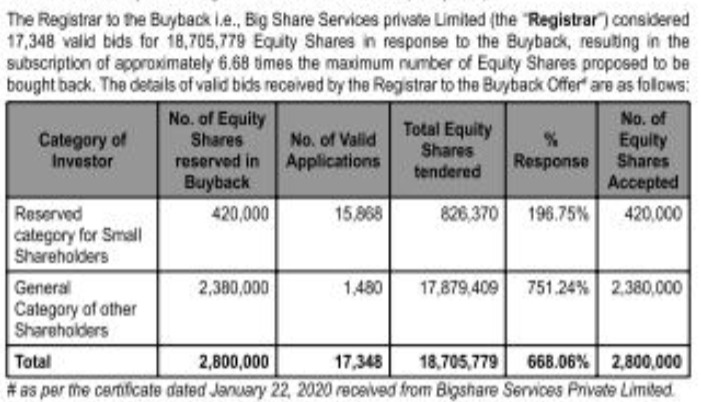 Registrar Contact Details:
Bigshare Services Pvt. Ltd. 306, Right-Wing, 3rd Floor Amrutha Ville, Hyderabad - 500082, Telangana Website: www.bigshareonline.com
Company Contact Details:
Kaveri Seed Company Limited 513-B, 5th Floor, Minerva Complex, S D Road, Secunderabad Andhra Pradesh - 500003 Website: www.kaveriseeds.in