April 26, 2020
Posted by:

Umesh Paliwal

Categories:

Blog, Featured
About Zerodha
Zerodha is the market leader in the Indian broking industry. It has started the concept of discount broking in India. Discount broking means carry out trades in the market at a very low brokerage. Before the advent of discount broking in India, the conventional brokers used to charge very high brokerages on every buy and sell trade. Zerodha with the new concept completely shook the industry and within 10 years become India's No.1 broker with ~9-10 lakh clients on its platform.
Nitin Kamath, CEO of Zerodha, the trader who has started his journey at the age of 17 realized after doing trading for 15 years that there is a mismatch in the brokerage industry as to what trader wants and what he is getting. The conventional broking model was mostly running offline with a large number of offices, sub-broker offices, relationship managers, etc adding a lot of cost in the operation and so, charging high brokerage to clients. Then he thought, if we can provide a trading platform without opening so many physical offices and bring everything on the online platform, the brokerages can be reduced, thereby, ultimately passing on the benefit to the trader or investor. By having all this in mind, the bootstrap startup- without any external investor money, Zerodha was born in 2010. Zerodha means Zero barrier, it has made up from the English word "Zero" and the Sanskrit word "Rodha" meaning barrier.
Flat fee per order concept revolution:
Zerodha's concept of a flat fee of Rs.20 per order or 0.01% of trading value, whichever is lower, has made a revolution in the broking industry. Previously, the brokers were used to charge variable brokerage depending upon the size of the trade. If the size is more, the brokerage will be more and vice-versa. So, a retail investor always gets mired by high brokerages which ultimately reduces his whatever little profit he is earning by trading.
At present, Zerodha provides trading facilities in all three segments i.e. Equity, Currency, and Commodities. Apart from this, the investor can also purchase mutual funds from Zerodha's Coin- a mutual fund platform.
Present Pricing in Zerodha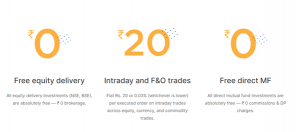 From the above infographic, it is clear that buying shares for delivery and buying mutual funds is completely free. For trading, the investor has to pay a flat fee of Rs.20 or 0.03% ( whichever is lower).
Varsity and other platforms:
Initially, trading used to be done from the terminal of brokers and sub-broker offices and nobody would have ever thought that one day seamless trading from mobile becomes a reality. From the starting Zerodha was confident that future trading will happen more from mobile and less from terminals. So, their focus was always on building a platform that can run smoothly on mobile as that on the terminal.
With that in mind, Kite- a trading platform, was born, which gave seamless trading experience on mobile along with a facility of deploying various trading techniques to decide when to buy or sell, equipping a small trader to take trading decision wisely. Kite with the simplicity of use, and addition of new features with every new version, has made this platform very popular among traders and given Zerodha a huge client base over the years.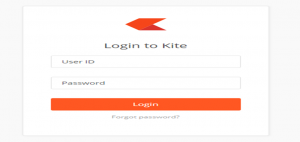 Apart from this, Zerodha also runs an online university with the name Varsity, where it teaches the concept of fundamental investing as well as trading techniques. Their motto is simple, without understanding the market, the chances of one trading or investing would be less.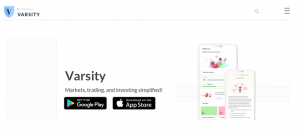 Link of Varsity- https://zerodha.com/varsity/
Growth of the Zerodha:
Initially, it took some time for Zerodha to established itself, but from 2015 onwards, with Modi Govt in the central, bull market was just started, the user count of Zerodha grew by staggering 14x growth in the last 3-4 years.
As per NSE data, as on 31.03.2020, India has a total of ~87 Lakh, active clients. And Zerodha has ~9 Lakh, active clients. This is almost 10% of the total base, which is huge. However, all the staggering growth in the world has one usual trait, it brings a lot of issues along with it. Let us discuss those now.
Problems in Zerodha:
As we already discussed, the Zerodha was growing in fast and furious mode, day by day trading volume was going up, and the platform was making a record of the highest number of trades and so on. However, with this pace, problems also started creeping in.
In 2017, a client called Prasad  Bhavana has said he could have realized 365.70 Lakh by selling Tata motors futures, but due to the shortage of margin Zerodha has squared off his position earlier and so he could realize only 284.82 lakh, resulting in a huge loss.
As per the client, the Zerodha did not inform him regarding the shortage of margin else he would have added margin and would not have squared off the position.
As per the company statement;
" If a client doesn't have enough margin to hold a futures position, we square it off, this is consistent with our margin policy. Exchanges charge a penalty if F&O positions are held without enough margins".
However, the matter went into arbitration, and the judge in 2:1 capacity, has ordered in favor of the client and found Zerodha guilty and asking it to pay Rs.37 lakh as compensation of loss.
The panel also pointed out the following points in the case:
1. How did Zerodha allow a person with income of Rs. 1 to 5 lakh to take exposure of Rs. 4 crores? Appellate Arbitration Panel?
2. Zerodha encourages rampant speculation- They accused Zerodha of "encouraging heavy volume and rampant speculation and creating extraordinary turnovers".
Along with the above major fault at Zerodha, below are some of the tweets of aggrieved customers taken from twitter where due to technical glitches in the platform, the app not working, the site is down, etc, investors could not able to complete the trades in time and has made the losses.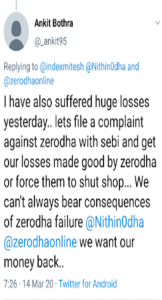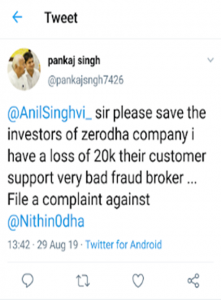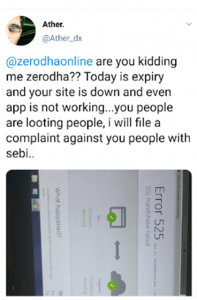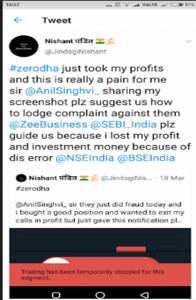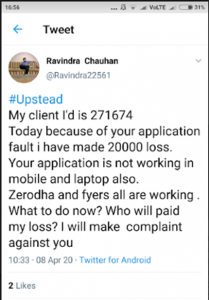 By reading the above tweets we can conclude that most of the investors faced issues due to technical glitches which happened as either the Zerodha platform was not properly equipped to handle large trades or there were some issues from the vendor side.
We hope the above feedback will make Zerodha work even harder to make the application glitch-free else these issues will dent the future growth of the company.
Some of the URLs taken from ET and Zerodha Website for your reading.
1.https://economictimes.indiatimes.com/small-biz/startups/newsbuzz/zerodha-to-fight-panel-order-asking-it-to-pay-client-rs-37-lakh/articleshow/66930751.cms?from=mdr.
2.https://zerodha.com/z-connect/zerodha/bulletin-latest-at-zerodha/todays-technical-issues-postmortem
3.https://zerodha.com/z-connect/zerodha/why-zerodha/on-conspiracy-theories-about-zerodha
Sources:
1. Active Client data are taken from NSE.
2. Pricing of trade taken from Zerodha website