July 10, 2019
Posted by:

Umesh Paliwal

Categories:

Blog, Mutual Funds
Disinvestment is a tool vide which Govt. sells its stakes in the Stock Market and in return gets the desired funds. Therefore, in 2014 the Govt. has launched CPSE ETF. The CPSE ETFs in 2014 was listed at 10% gain at 19.45 against an offered price of Rs.17.45.
In the budget of 2019, the disinvestment target is more than 1.05 lakh crores. The government is planning to achieve that goal mostly through ETFs.
Till then 4 Follow on tranches have been launched and in every tranche, the govt has offered a discount of 5%, 3.5%, 4.5%, and 4% respectively.
The benchmark index is Nifty CPSE. The Fund Offer is managed by Reliance Nippon AMC.
Offer Description
The Tranche 6 follow-on fund offer is expected to have a base size offer of Rs 8,500 crore with an additional greenshoe option up to INR 12000 and is also offering a discount of 3%.
(i) CPSE AUM: ~ INR 10500 cr
(ii) Anchor: 18th July. The size for Anchor is 30%.
(iii) Non Anchor: 19th July. The size of Non-Anchor is 70%.
(iv) Base Size: INR 8500 Cr with greenshoe up to INR 12000 cr
(v) Discount: 3%.
What is ETF?
1. Can be sell and buy any time of the day.
2. They can be listed on Exchange.
3. Brokerage is low.
4. New Units are offered only through new Tranches.
Holdings in CPSE ETF:
| | |
| --- | --- |
| Index constituents | Weightage |
| ONGC | 20% |
| NTPC | 20% |
| Coal India | 20% |
| Indian OIl | 20% |
| Power Fin Corporation | 7.80% |
| BEL | 6.04% |
| Oil India | 3.01% |
| NBCC | 1.84% |
| NLC | 0.73% |
| SJVN | 0.58% |
This Index previously though consist of 11 PSUs.It is to be noted that REC has been excluded from the CPSE ETF Portfolio now. So from here onwards we will have only 10 companies under CPSE ETFs.
More than 75% stakes consist of ONGC, NTPC, Coal India and Indian Oil.
There is no lock-in period for Retail Investors. They can sell it on the very next day of allotment.
Performance of the CPSE ETF since inception:
The CPSE ETF has given a return of 8.16 % since inception.
In the 5 Tranche i.e. last tranche, the ETFs received a bumper subscription of 30000 Cr as compared to its size of 10000 Cr and has given Rs.14000 gain per application of 2 lakh.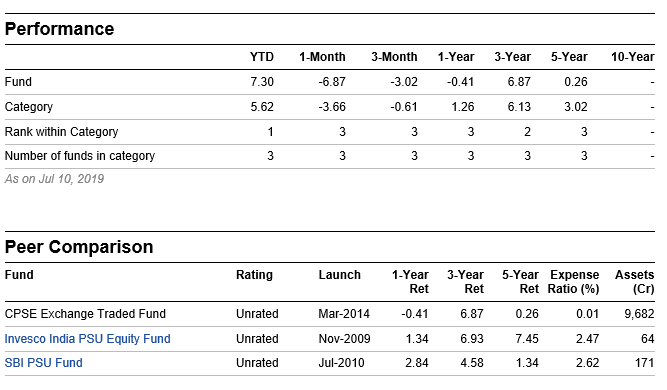 Source: Value Research
Valuation of the CPSE ETF
(i) Portfolio P/B Ratio= 1.30
(ii) Portfolio P/E Ratio= 7.88
Nifty CPSE index is trading at a 36-45 percent discount to the Nifty50 Index valuation.
How to Apply?
The investors can apply through ICICI MFs website, HDFC Securities app, Zerodha App or many other portals. In the case of oversubscription, the ETFs units will be given depending upon the number of the application.
Should You Invest?
The Index consist of only PSU stocks and the performance of the PSU stocks in the last 5 years is not attractive neither does the future the way Govt. is eating out the reserves by a way of dividend or Buyback to meet their disinvestment target. The CPSE ETFs though we can say is available at an attractive valuation but it has more to do with the under performance of the fund. The CPSE ETFs is a good option for short ( Listing gain) to mid-term and but certainly not a long term bet the way PSUs stocks have underperformed.