Suich Industries Limited IPO
(i) The business was started by Gunnit Singh Allagh and Sanchit Allagh as a wholesale trading and distribution concern for mobile and mobile accessories in New Delhi, India. After gaining experience and foreseeing the opportunity in the Indian mobile market, they incorporated the Company in 2008 initially for
manufacturing of mobile phone batteries and mobile phone chargers.
(ii) To reap the benefits of tax incentives, they strategically purchased land and set up a manufacturing facility at State Infrastructure and Industrial Development Corporation of Uttarakhand Limited (SIIDCUL) in Haridwar, Uttarakhand spread over an area of 7,500 sq. meters.
(iii) The Company through its subsidiary as well as individually imports the parts and equipment from China and assemble them at their manufacturing facility situated at Haridwar.
(iv) In 2012, to expand its portfolio the company launched mobile power bank. Further, leveraging their experience in the industry, the company started manufacturing newer variants of Power banks 7,500 mAH and 10,000 mAH and launched feature mobile phones in 2014.
(v) In 2016, to become a consumer electronics based Company, they launched Light Emitting Diode (LED) TV sets in 2016.
.
(vi) Since inception, the company has focussed on selling the products to Northern India specifically catering to rural areas and Tier-2 and Tier-3 cities where feature mobile phones and mobile phone accessories are easily marketable.
(vii) They have strived to keep themselves an asset-light and accordingly, they sell the entire products directly to the wide distributor's network avoiding the need of setting up own retail outlets.
Products of the Company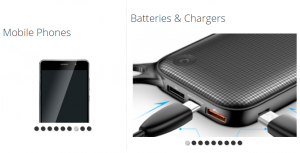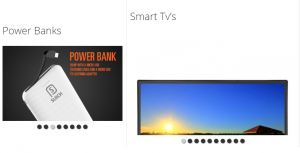 The Company assembles and markets these products under its own brand name, "Suich"
Objects of the Suich Industries Limited IPO:
1
.
Repayment/ pre-payment of certain unsecured loans availed from banks and financial institutions by the company.
2
.
Funding the working capital requirement of the Company.
3
.
General corporate purposes.
Suich Industries Limited IPO Details:
| | |
| --- | --- |
| Open Date: | May 30 2019 |
| Close Date: | Jun 04 2019 |
| Total Shares: | 41,15,200 |
| Face Value: | ₹ 10 Per Equity Share |
| Issue Type: | Book Building |
| Issue Size: | 30.86 Cr. |
| Lot Size: | 1600 Shares |
| Issue Price: | ₹ 73-75 Per Equity Share |
| Listing At: | BSE SME |
| Listing Date: | May 14 2019 |
Company Business:
The Company's primary business comprises of assembling of Mobile phone battery, Mobile Phone, Mobile Charger, LED TV and other mobile accessories.
Financials of Suich Industries Limited IPO:
1.
The Company's Profit gets doubled from 2016 to 2018. It has gone up from 100 Cr to 200 Cr.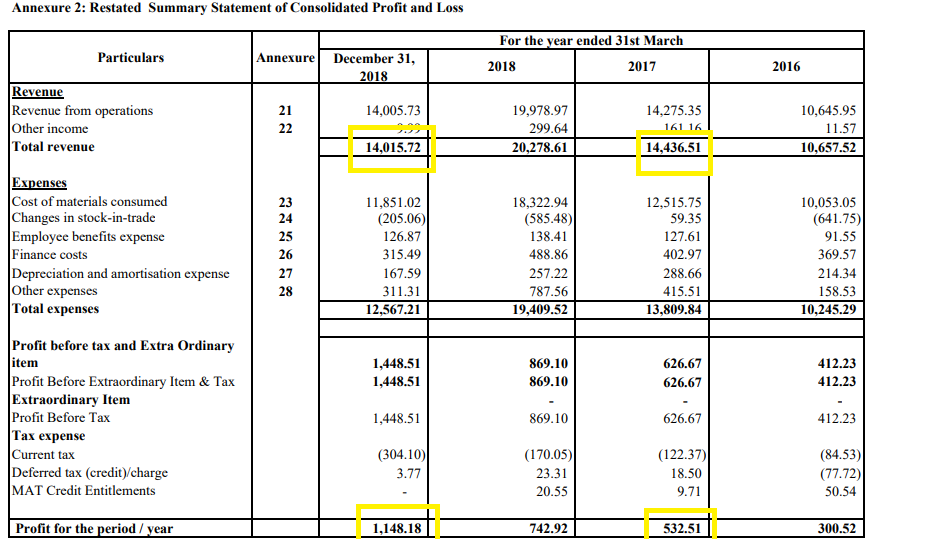 However, if you see the above image the company's Profit gets doubled in the last 2 years on almost constant revenue. They are doing the business in a very competitive environment so this much jump looks quite surreal.
2

. Total Outstanding shares after IPO would be 1,52,44,200.
3
.
The EPS based on annualizing the skeptical 9MFY18 financials would be 9.62. So the asking P/E multiple is 7.79x.
However, if you take the Average profit of the last 3 years and divide with the number of shares outstanding after IPO, the EPS would be 3.55 and P/E multiple would be 21.04.
Comparison With Peers:
As per DRHP, the Dixon Technologies has shown as peers but it can't be compared with it in the strict term due to following reasons: Dixon offer end to end product solutions under two business models, i.e., the
OEM
and
ODM
. Under the
OEM model
, they provide services ranging from global sourcing, manufacturing, quality testing and packaging to logistics to OEMs across the product verticals. Under the
ODM model
, they develop and design products in-house at their R&D center and then undertake the manufacture and supply of these products to companies in India who in turn distribute these products under their own brands. However,
Suich Industries
is not truly manufacturing any product but rather importing material from China and assembling it and then selling it under "Suich" Brand.
Recommendation on Suich Industries Limited IPO:
Review and Recommendation of
Suich Industries Limited IPO
from IZ Team are 2/10. [
The Issue is asking a P/E multiple of 21x based on Average PAT of last 3 years, which looks stretched. We have taken the last 3 years average PAT as 9MFY18 earnings look skeptical as already discussed. The company is working in a very competitive environment so going forward do not expect much improvement in the margins. The company is not a true manufacturing company. They are more of assembler. So moat is less. The positive is Pantomath as LM. Can be looked depending upon the subscription figure

.  
]
Lead Manager of Suich Industries Limited IPO:
Registrar of Suich Industries Limited IPO:
Bid Details of Suich Industries Limited IPO as on
04 Jun 2019 | 05:00:00 PM
| Category | No.of shares offered | No. of shares bid |
| --- | --- | --- |
| | 1,953,600 | 2,569,600 |
| | 1,953,600 | 2,865,600 |
| | 208,000 | 208,000 |
| | 4,115,200 | 5,643,200 |
| | |
| --- | --- |
| QIBs | No |
| QIBs+HNIs Subscription | 1.32X |
| Retail Subscription | 1.47X |
| Total Subscription | 1.39X |
Discussion on Suich Industries Limited IPO: