Spandana Sphoorty Financial Limited IPO
Overview of the Company
Spandan is a Sanskrit word and it means Response. As Spandana was born in response to a problem, the Organisation was named as Spandana. Spandana is a public limited company registered with Reserve Bank of India (RBI) as an NBFC MFI. Started in 1998, within five years, by 2003, it grew to the largest Microfinance Institution in India and 6th largest across the globe. In its peak, Spandana had 1,856 Branches with a presence in 10 states and a workforce of over 13,500 employees.
Spandana was founded by Mrs. Padmaja Reddy in 1998 as a Society which was later transformed into an NBFC and subsequently as NBFC MFI. Mrs. Reddy, the Promoter and Managing Director of Spandana prior to founding Spandana used to work with an NGO in Andhra Pradesh. This NGO used to help poor people to build their houses, provide safe drinking water, sanitation, health education, etc. The NGO used to raise grants from different funding agencies and implement these activities.
Business
They offer income generation loans under the joint liability group model, predominantly to women from low-income households in Rural Areas. As of March 31, 2018, they were the fourth largest NBFC-MFI and the sixth-largest amongst NBFC-MFIs and SFBs in India, in terms of AUM. The average ticket size of the loan is Rs. 26000 and most of these loans are income generating.
Company went to CDR in 2010 
In October 2010, the MFI industry was severely impacted due to external regulatory action, as the government of the formerly unified Andhra Pradesh promulgated the AP Microfinance Ordinance 2010, which enforced several restrictions on the operations of MFIs.
This severely impacted the company collections and the consequent cash-flow shortage impacted their ability to service the debt, which in turn impaired their growth and profitability. The lenders referred them to the corporate debt restructuring ("CDR") mechanism of the RBI to develop a plan to restructure our borrowings and revive our business.
They agreed on a CDR plan with their lenders, which allowed them to get cash-flow relaxations to enable them to continue working towards portfolio diversification, process improvement, and cost rationalization. These measures helped us turn the operations profitable from the year ended March 31, 2014.
Post CDR
Post their exit from CDR in March 2017, they increased the lender base, diversified borrowings to new banks and NBFCs and also issued NCDs in the capital markets which results into a reduction in Average Effective Cost of Borrowing to 13.82% for Fiscal 2018 from 16.31% for Fiscal 2017.
Productivity Ratio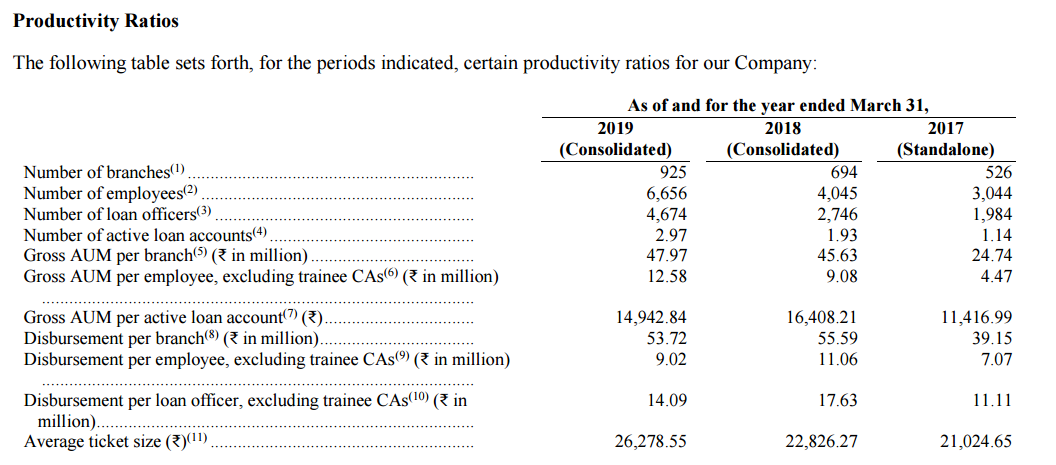 Interaction with Management 
Objects of the Spandana Sphoorty Financial Limited IPO:
A) Offer for Sale- The existing investors are selling 9,356,725 shares. B) Fresh Issue- The company is getting 400 Cr from the issue which will be used for augmenting the capital base and general corporate purposes. The total size of the issue is 1200.90 Cr.
Spandana Sphoorty Financial Limited IPO Details:
| | |
| --- | --- |
| Open Date: | Aug 05 2019 |
| Close Date: | Aug 07 2019 |
| Total Shares: | 1.40 Cr |
| Face Value: | ₹ 10 Per Equity Share |
| Issue Type: | book building |
| Issue Size: | 1200.94 Cr. |
| Lot Size: | 17 Shares |
| Issue Price: | ₹ 853-856 Per Equity Share |
| Listing At: | NSE,BSE |
| Listing Date: | Aug 19 2019 |
Promoters And Management:
1
.
Padmaja Gangireddy
is the Founder and Managing Director of the Company.
Qualification
: She holds a bachelors' degree in science and a bachelors' degree in communication and journalism. She attended a course on credit and micro-enterprise development from Durham University, UK, a microfinance training program from Naropa University, USA, the HBS-Accion program on strategic leadership for microfinance from Harvard Business School and an executive education program from Indian School of Business, Hyderabad. She worked at ASSIST (a non-governmental organization) for seven years and her last held title was deputy director.
Award: 
She has been awarded the "Women Leadership Award for Excellence in Banking & Finance Sector" presented by CMO Asia in 2018, the "Outstanding Achievement Award for Excellence in Banking & Finance" at the International Achievers Conference, 2018 and as one of the "Most Admired Leaders of Asia 2018" by Process Evaluators & Research – BARC Asia & Jury Panel, Herald Global. She has been a Director on our Board since April 19, 2003.
2.

Deepak Calian Vaidya
is a Non-Executive Chairman and Independent Director of our Company. He is a fellow of the Institute of Chartered Accountants in England and Wales since 1979. He has served as a director on the board of the directors of Capricorn Securities India Private Limited, Arc Advisory Services Private Limited and Chaityadeep Investments Private Limited.
Financials of Spandana Sphoorty Financial Limited IPO: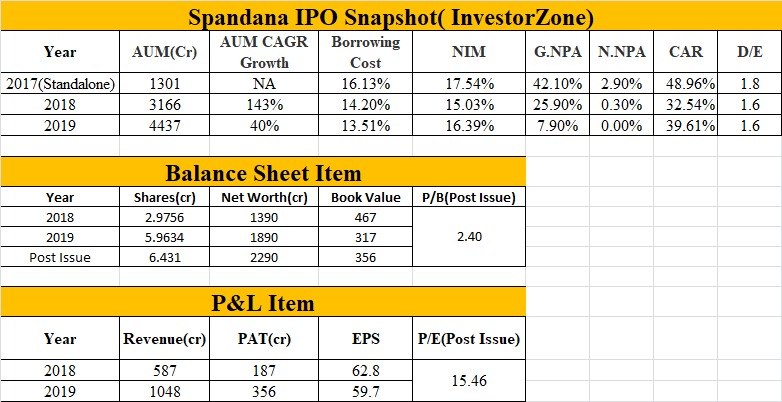 IZ Review
1
. The Company has a total AUM of 4437 Cr as on 31.03.2019. The AUM has grown at a rate of 84% in the last 3 years.
2
. The Company has a Capital Adequacy Ratio of 40% as on 31.03.2019 and the same will go to 45% after IPO. The RBI requirement is only 15%. The 
capital adequacy ratio
 (CAR) is a measure of a bank's 
capital
. It is expressed as a 
percentage
of a bank's risk-weighted credit exposures. Also known as 
capital
-to-risk weighted assets 
ratio
(CRAR), it is used to protect depositors and promote the stability and efficiency of financial systems around the world.
3
. The Company has a P/B of 2.40 Post Issue. The Peer Credit Access Grameen is currently trading at 3.18.
4
. The Company's balance sheet is very healthy. Post issue they will have a net worth of 2290 Cr and as on 05.07.2019, they have a debt of 3296 Cr. So D/E is 1.43 which is quite manageable.
Comparison With Peers:
Credit Access Grameen Financials for Peer Comparison
Year
Revenue
PAT
P/E
P/B
2017
709
80
22
3.18
2018
871
212
2019
1283
321
1
. Spandana is issuing shares in a discount to its peer i.e Credit Access.
2
. Last year Credit Access Grameen has come up with an IPO at P/B of 2.95x and now trading at P/b of 3.18x.
3
. The Credit Access Grameen IPO came at 422 and now share is trading at 522, means 23% return in last one year which is exceptional looking at the market condition.
4
. Credit Access has a total AUM of 7160 Cr which was 4980 Cr last year. So the company has shown excellent growth in AUM.
5
. So chances of 10-15% listing gains are possible.
Recommendation on Spandana Sphoorty Financial Limited IPO:
Review and Recommendation of InvestorZone is:  5/10 1. The company has been growing well in the last 3 years. Currently, 4th largest NBFC-MFI in India with AUM of 4400 Cr. 2. The recent conversion of many MFI to Small Finance Bank has opened up a lot of opportunities for the company in the sector. After becoming Small Finance Bank the operational expenses go up, which forced SFBs to shift their focus from Micro-finance space to big-ticket size loan to meet the expenses. However, as per management, they have no plan for SFBs and will focus on Micro-finance for next 4-5 years. 3. The issue is reasonably priced at P/B of 2.40 post issue. The 10-15% listing gain is possible if market sentiments do not deteriorate further. 4. The Company has a strong balance sheet with D/E of 1.43 post issue and CAR of 45% well above the regulatory requirement of 15% from RBI.
Lead Manager of Spandana Sphoorty Financial Limited IPO:
Registrar of Spandana Sphoorty Financial Limited IPO:
Company Address:
Spandana Sphoorty Financial Limited, Galaxy, Wing B, 16th Floor, Plot No.1, Sy No 83/1, Hyderabad Knowledge City,TSIIC, Raidurg Panmaktha, Hyderabad, Rangareddy, TS 500081 IN Phone: 040 – 45474750 Website:  www.spandanasphoorty.com
Discussion on Spandana Sphoorty Financial Limited IPO: