Rail Vikas Nigam Limited IPO
History of Rail Vikas Nigam Limited
To bridge the infrastructure deficit on Indian Railways, the then Prime Minister, Bharat Ratna Shri Atal Bihari Vajpayee announced National Rail Vikas Yojana (NRVY) on 15th August 2002 in his address from the Red Fort. NRVY was formally launched by Hon'ble PM on 26th December 2002. To implement NRVY, RVNL was incorporated as a 100% owned PSU of Ministry of Railways (MoR) on 24-1-2003 with the twin objectives of raising extra-budgetary resources and implementation of projects relating to creation and augmentation of capacity of rail infrastructure on a fast track basis. RVNL became fully functional by March 2005.
Function
RVNL functions as an extended arm of the Ministry of Railways working for & on behalf of MoR. It is empowered to act as an Umbrella SPV to undertake project development, resource mobilization etc. directly or by creating project specific SPVs or by any other financing structure found suitable. RVNL's mandate includes mobilization of extra-budgetary resources through a mix of equity, and debt from banks, financial institutions, multilateral agencies like Asian Development Bank and bilateral agencies for project execution through PPP by the formation of project specific SPVs for Port and Hinterland connectivity. RVNL can enter into and carry on business relating to creation and augmentation of capacity of rail infrastructure on the fast track.
Business Model

RVNL is carrying out planning, development, resource mobilization & execution of railway related projects on fast track:
(i) Projects to be executed by RVNL are assigned by the Ministry of Railways (MoR).
(ii) Projects of other Central Ministries, State Governments and CPSEs also assigned to it.
(iii) Powers have accordingly been delegated to RVNL to facilitate project execution.
(iv) RVNL expenditure is largely dependent on the budgetary allocations by the Ministry of Railways.
(v) Projects are also being funded by EBR (IF), IRFC, ADB loan etc. through MoR.
Revenue Stream
(i) A consolidated management fee (inclusive of supervision charges) based on the average supervision charges allowed to Zonal Railways (8.5%).
(ii) RVNL pays a dividend to Ministry of Railways on the savings out of the consolidated management fee. For 2017-18, Rs 167.0 crore was paid as dividend and Rs 34.0 crore as tax on dividend which is 2.88% of project execution cost. Thus, the effective management fee of RVNL was only 5.62%.
Project Completed as on Date:

They are in the business of executing all types of railway projects including new lines, doubling, gauge conversion, railway electrification, metro projects, workshops, major bridges, construction of cable-stayed Bridges, institution buildings etc.
Since its inception in 2003, the Ministry of Railways has transferred 172 projects to them out of which 166 projects are sanctioned for execution.
Out of these, 60 projects have been fully completed totaling to ₹167,777.00 million and the balance is ongoing.They have an order book of ₹686,836.20 million as on February 28, 2018 which includes 106 ongoing projects.
Objects of the Rail Vikas Nigam Limited IPO:
(i)
to carry out the disinvestment of 253457280  Equity Shares held by the Selling Shareholder in the Company.
(ii)
to achieve the benefits of listing the Equity Shares on the Stock Exchanges.
Rail Vikas Nigam Limited IPO Details:
| | |
| --- | --- |
| Open Date: | Mar 29 2019 |
| Close Date: | Apr 03 2019 |
| Total Shares: | 253457280 |
| Face Value: | ₹ 10 Per Equity Share |
| Issue Size: | 480 Cr. |
| Lot Size: | 780 Shares |
| Issue Price: | ₹ 17-19 Per Equity Share |
| Retail Discount: | .50 per share |
| Listing At: | NSE,BSE |
| Listing Date: | Apr 11 2019 |
Promoters And Management:
Promoters of Rail Vikas Nigam Limited Company are: The Promoter is the President of India acting through the Ministry of Railways.
Financials of Rail Vikas Nigam Limited IPO: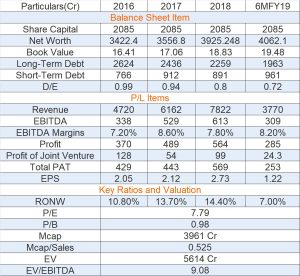 Comparison With Peers:
The RVNL at the cutoff price of 19 is having P/E multiple of 7.79 and its listed peer IRCON International Limited is trading at P/E of 9.92 based on FY18 earnings. IRCON International is also a Railway PSU. The IRCON International last year came up with an IPO at Rs. 465 and listed around 400. However, the allottees got a chance to exit at the end of the day when the price went to 450. The CMP of IRCON International is at 397 which is a 14% discount from issue price.
Recommendation on Rail Vikas Nigam Limited IPO:
Review and Recommendation of
RVNL IPO
from IZ Team is:
3/10
(i)
The company has shown excellent growth of 28% in revenue from FY16 to FY-18 and debt/equity is under 1
.
(ii)
The company is an asset-light model as they provide consultancy service to railway projects and the project cost is financed by the Ministry of Railways. However, lately, the company is not getting funds on time due to non-availability of funds for Infra Projects and had to use their own funds which have put the strain on Working Capital. Many of their on-going projects are delayed due to land acquisition, removal of encroachments, utility shifting, etc. The company is dependent upon MoR for all these clearances before starting the project.
(iii)
The company outsourced manpower from Railways. As on December 31, 2018, the Company had 550 employees of which 389 employees are on deputation from Indian Railways.
(iv)
The Pricing of IPO has been done reasonable but its peer IRCON is trading at Discount of 14% from Issue price. The Infra- PSU as a sector is not in flavor.  This issue is pure OFS and the company is not receiving anything so again big negative.
Lead Manager of Rail Vikas Nigam Limited IPO:
Registrar of Rail Vikas Nigam Limited IPO:
Company Address:
Rail Vikas Nigam Limited 1st floor, August Kranti Bhawan, Bhikaji Cama Place, R. K. Puram, New Delhi 110 066 Phone No. +91 11 2673 8299 Fax No. +91 11 2618 2957 E-mail: investors@rvnl.org Website: www.rvnl.org
Discussion on Rail Vikas Nigam Limited IPO: