Northern Spirits Limited IPO
(i) Northern Spirits Ltd. (NSL) had embarked in 2012 on a journey as Northern Spirits Pvt. Ltd to make a mark in the liquor business. Northern Spirits chose New Delhi (NCR) as its business capital, the paradise that constantly brews promises for the liquor entrepreneurs. NCR cherishes the pride of a trendsetting alcohol consumption pattern that has inspired Northern Spirits to select New Delhi as the starting point. And the best thing is that it has been enjoying a business growth of 40% YOY for last 4years.
(ii) The Promoters of Northern Spirits have a commendable experience of more than 35 years that includes: A strong start in Punjab since 1975 and then in Maharashtra through 'Wine Enterprises' since 1991. In the year 2002-03 the entrepreneurial Journey of the promoters, commenced in the state of West Bengal, through its Group concern 'United Wines' whose Proprietor is Mr. Anuj Bakshi.
(iii) Northern Spirits Ltd started its operations in 2012 as " Importer & Distributor of fine Alcoholic Beverages"  and is focused in imports of leading international brands such as William Grants ( Glenfiddich Single Malt, Grants Whisky, Monkey Shoulder Whisky, Balvenie Single Malt, Hendricks Gin), Bacardi Global ( Grey Goose Vodka, Bombay Sapphire Gin, Dewar's Whisky, Martini Vermouth), Shepherd Neame Beer, Amigos Beer, Carlo Rossi California Wines, Tomich Australian Wines, Cooper's Australian Beer, West Cork Irish Whiskey, Two Tree Gin, Reddot Wheat Beer, Aqua Riva Mexican Tequila & Organika Russian Vodka and are distributing the same in Northern Region – Delhi, North East, West Bengal and as a strategic move decided to integrate the business for better corporate governance and Compliance.
(iv) Mergers of "United Wines" and "NSL".- On 1st April 2018 United Wines was merged with Northern Spirits Limited.
Objects of the Northern Spirits Limited IPO:
The Company is Issuing 43,02,000 Shares at Rs. 43 a piece thereby raising 18.4986 Cr from the Proceed for the Following Items. A. To meet the working capital requirements of the company= 15.6486 Cr. B. To meet the Issue Expenses= 1.35 Cr. C. General Corporate Purposes= 1.50 Cr
Northern Spirits Limited IPO Details:
| | |
| --- | --- |
| Open Date: | Mar 22 2019 |
| Close Date: | Mar 27 2019 |
| Total Shares: | 4,302,000 |
| Face Value: | ₹ 10 Per Equity Share |
| Issue Type: | Fixed Price IPO |
| Issue Size: | 18.50 Cr. |
| Lot Size: | 3000 Shares |
| Issue Price: | ₹ 43 Per Equity Share |
| Listing At: | BSE SME |
| Listing Date: | Apr 05 2019 |
Financials of Northern Spirits Limited IPO: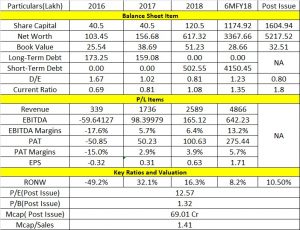 Comparison With Peers:
The Company believes that none of the listed companies in India offer products or services across the various business segments in which they operate. Hence a strict comparison is not possible.
Recommendation on Northern Spirits Limited IPO:
Review and Recommendation of Northern Spirits Limited IPO from IZ team is: 4/10. [ The Company has a very good business model and has shown excellent growth. The sector company caters to is ever growing though highly competitive. The valuation looks reasonable in terms of P/E and Mcap/Sales.  ]
Lead Manager of Northern Spirits Limited IPO:
Registrar of Northern Spirits Limited IPO:
Company Address:
Northern Spirits Limited Woodburn Central, 5-A Woodburn Park Road, Suite NO. 603, 6th Floor, Kolkata - 700020.
Bid Details of Northern Spirits Limited IPO as on
27 Mar 2019 | 11:58:04 PM
| Category | No.of shares offered | No. of shares bid |
| --- | --- | --- |
| | 2,043,000 | 3,729,000 |
| | 2,043,000 | 1,596,000 |
| | 216,000 | 216,000 |
| | 4,302,000 | 5,541,000 |
| | |
| --- | --- |
| QIBs | No |
| QIBs+HNIs Subscription | 1.83X |
| Retail Subscription | 0.78X |
| Total Subscription | 1.30X |
Discussion on Northern Spirits Limited IPO: