City Pulse Multiplex Limited IPO
(i) They carry out the business of setting up, operating and managing a chain of miniplex / multiplexes under the brand name 'WOW Cine Pulse'. Most of our miniplexes have small seating capacity (approx 100 seats) with contemporary sound quality.
(ii) In 2006, they have produced their first film "Love is Blind". "Love is Blind" had won an award from Government of Gujarat in most categories of it being nominated for; to elaborate-Best Gujarati film of the year, best playback singer, best story writing/scripting, best direction, and best sound recording.
They have established the first cinema theatre in Mehsana with two screens having a seating capacity of 433 seats in the year 2007. Presently, WOW Cine Pulse operates at 14 locations with 14 screens with a total of 3340 seats.
The operational units are situated at key locations which offer a large catchment area. These operational units are surrounded by malls, food courts and restaurants along with adequate car parking facilities thus making them an attractive destination for patrons.
(iii) The Company is proposing to launch the new Project i.e. "World on Wheel". World on wheels is the first step of our Company in the field of "Innovation Entertainment", first of its kind of cinema on wheels with all the miniplex / multiplex amenities within it. Our Company had already purchased the containers required for this project.
(iv) Business Segment of the Company

Objects of the City Pulse Multiplex Limited IPO:
The company proposes to utilize the issue proceeds towards the following objects: I. Setting up of new miniplex /Multiplex; II. General corporate purpose and III. To Meet the Issue Expenses
City Pulse Multiplex Limited IPO Details:
| | |
| --- | --- |
| Open Date: | Jun 27 2019 |
| Close Date: | Jul 03 2019 |
| Total Shares: | 1,328,000 |
| Face Value: | ₹ 10 Per Equity Share |
| Issue Type: | Fixed Issue |
| Issue Size: | 3.98 Cr. |
| Lot Size: | 4000 Shares |
| Issue Price: | ₹ 30 Per Equity Share |
| Listing At: | BSE SME |
| Listing Date: | Jul 11 2019 |
Promoters And Management:
Mr. Arpit Kumar Mehta and Mrs. Rajal Arpit Kumar Mehta are the promoters of the company.
Financials of City Pulse Multiplex Limited IPO: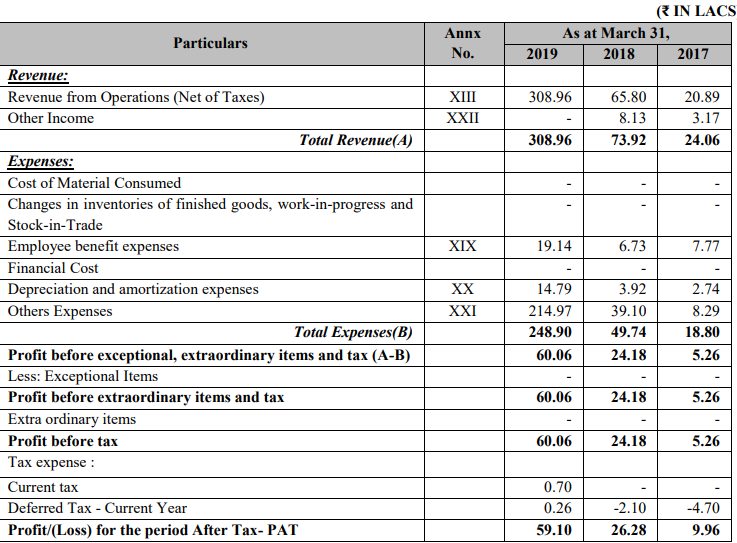 Comparison With Peers:
The company has shown INOX and PVR as its peers which are trading at P/E of 23 and 43 respectively as on last 24.06.2019. The scale and size of INOX and PVR has no comparison with the company.
Recommendation on City Pulse Multiplex Limited IPO:
Review and Recommendation of
City Pulse Multiplex Limited IPO
from IZ Team are 3/10.
(i)
The issue looks fully priced at P/E of 17. The market condition is not conducive for SME segment lately given a kind of poor returns they have given and in many SMEs counters, even trading is also not happening due to the liquidity crunch.]
(ii)
Observation by IZ Team
As per DRHP, the company's revenue comes from ticket sale and selling of food and beverages at the theatre. So that means they are getting everything in advance whenever somebody is coming to watch the movie. However, in the balance sheet as mentioned below, they have a very high receivable which may be a cause of concern.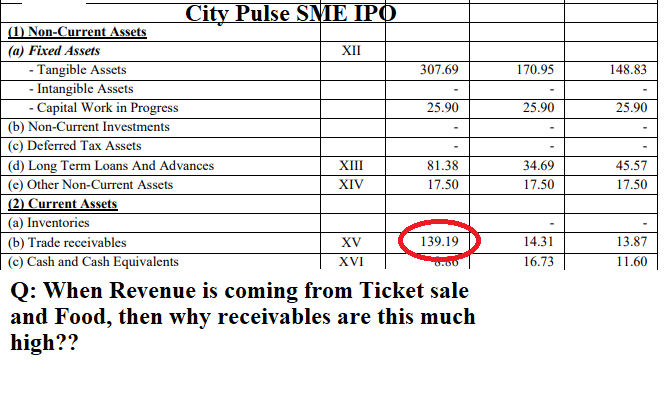 Lead Manager of City Pulse Multiplex Limited IPO:
Registrar of City Pulse Multiplex Limited IPO:
Bid Details of City Pulse Multiplex Limited IPO as on
03 Jul 2019 | 11:54:02 PM
| Category | No.of shares offered | No. of shares bid |
| --- | --- | --- |
| | 628,000 | 1,676,000 |
| | 628,000 | 2,092,000 |
| | 72,000 | 72,000 |
| | 1,328,000 | 3,840,000 |
| | |
| --- | --- |
| QIBs | No |
| QIBs+HNIs Subscription | 2.67X |
| Retail Subscription | 3.33X |
| Total Subscription | 3.00X |
Discussion on City Pulse Multiplex Limited IPO: