Company's Overview
(i) The founder promoter of the Company Mr. Gokul Bakshi, who worked with Bank of Baroda for almost three decades including 4 years overseas at British Guyana, decided to start his own business in 1987. He started "M/s Anand Enterprise", a Partnership Firm, with his Friends and Family Members to trade the Yarn in Surat by taking dealership of the polyester yarn from Reliance Industries Limited.
(ii) In 1992, Mr. Anand Bakshi, Managing Director of the Company, joined the Partnership Firm as a Partner. With his Ideas and Energy, Anand Enterprise achieved many milestones in sales as well as the profitability of the Firm. The partnership firm was reconstituted in the year 1999 and all the partners except Mr. Gokul Bakshi and Anand Bakshi had retired from the partnership firm.
(iii) Initially the partnership firm was doing trading activity in and around Surat only. After Mr. Anand Bakshi had taken an active interest, the firm has spread its wings and started trading in other cities and other parts of the Country. The firm also started sales to other cities like Ahmedabad, Vapi, Daman, Varanasi, Ichalkaranji, Bangalore, Erode & Coimbatore Later on, Anand Enterprise has taken Dealership of Nylon Yarn from JCT Limited, Polyester Yarn from Indorama Synthetics India Limited, Garden Silk Mills Limited & Filatex India Limited to expand the business.
The Firm has started trading in value-added yarns like dope dyed yarns, fancy yarns for various applications like the weaving of sarees, shirting & dress materials, yarn dyeing, carpets, various types of Elastic tapes & sizing segments.
(iv) The focus of the firm was on the development of market share on fancy and value-added yarns. The Firm holds a decent market share amongst the embroidery yarn, dyed yarn. The core yarn in value-added form is supplied to Jari Manufacturers. The company at present is trading in and around Surat only.
(v) The founder promoter of the Company Mr. Gokul Bakshi expired on January 18, 2019. The promoter of our Company Mr. Anand Bakshi has more than two and a half decade experience in the trading of Yarn.
IZ View

1. This is a trading company deals in different kind of Yarn which are used in Sarees, shirting dress material etc. So the company comes under the " Textile Industry".
2. The textile industry contributes to 7% of industry output in value terms, 2% of India's GDP and to 15% of the country's export earnings. With over 45 million people employed directly, the textile industry is one of the largest source of employment generation in the country.
3. The sector is highly competitive and low margin business. The company has close to 4-5% EBITDA Margins and less than 1% PAT Margins.
4. The Company has a high D/E of 2.15 based on 9MFY19 financials.
Objects of the Anand Rayons Limited IPO:
The company is raising close to 12.66 Cr from the IPO.  The funds will be utilized for the following purpose.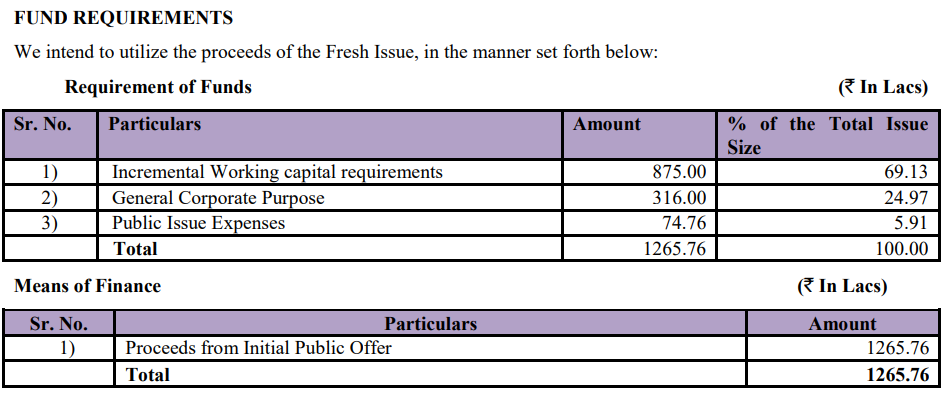 Anand Rayons Limited IPO Details:
| | |
| --- | --- |
| Open Date: | Jun 18 2019 |
| Close Date: | Jun 24 2019 |
| Total Shares: | 4688000 |
| Face Value: | ₹ 10 Per Equity Share |
| Issue Type: | fixed |
| Issue Size: | 12.6576 Cr. |
| Lot Size: | 4000 Shares |
| Issue Price: | ₹ 27 Per Equity Share |
| Listing At: | BSE SME |
| Listing Date: | Jul 02 2019 |
Financials of Anand Rayons Limited IPO:
(
Particulars in Lakh
)
Year
Revenue
OPM
OPM%
PAT
PAT%
Equity
EPS
P/E(Post Issue)
2016
21900
130
0.6%
45
0.2%
535.61
0.84
20.000
2017
27000
515
1.9%
104
0.4%
665.72
1.56
2018
25900
655
2.5%
145
0.6%
726.53
2.00
10MFY19
23100
523
2.3%
172
0.7%
1,029.67
1.67
Post Issue
27720
627
2.26%
206
0.7%
1498.47
1.37
IZ View
1. The Company has shown a CAGR Revenue growth of only 8.17% in the last 4 years. In growth, we would like to see companies growing at a Rate of 20-25%. [ Negative Point ].
2. The ROE for FY19 post issue would be close to 8%. We would like to see companies having ROE more than 20%. [ Negative Point ].
3. The debt on books post issue would be 1.27. We would like to see companies having D/E less than 1.[ Negative Point ].
4.  The asking P/E of 20 is too much for an SME that deals in a Textile sector that too in the current market situation where liquidity is in crisis even in mainline companies. [ Negative Point ].
Comparison With Peers:
The peers Shiva Texyarn Limited and Jakharia Fabric Limited as shown in the DRHP are trading at P/E of 25 and 21.
Recommendation on Anand Rayons Limited IPO:
Review and Recommendation of Anand Rayons Limited IPO from IZ Team are 2/10.
[
The textile sector is never been the flavor sector for investment. The asking price at P/E of 20x is aggressive looking at the market condition. The SMEs listed lately in the textile sector have given negative returns in the last 1 year. Example Axar Spintex and Lagnam.
]
Lead Manager of Anand Rayons Limited IPO:
Registrar of Anand Rayons Limited IPO:
Bid Details of Anand Rayons Limited IPO as on
24 Jun 2019 | 11:54:03 PM
| Category | No.of shares offered | No. of shares bid |
| --- | --- | --- |
| | 2,224,000 | 4,136,000 |
| | 2,224,000 | 1,072,000 |
| | 240,000 | 240,000 |
| | 4,688,000 | 5,448,000 |
| | |
| --- | --- |
| QIBs | No |
| QIBs+HNIs Subscription | 1.86X |
| Retail Subscription | 0.48X |
| Total Subscription | 1.17X |
Discussion on Anand Rayons Limited IPO: